Community Clinic Board of Directors 2017/2018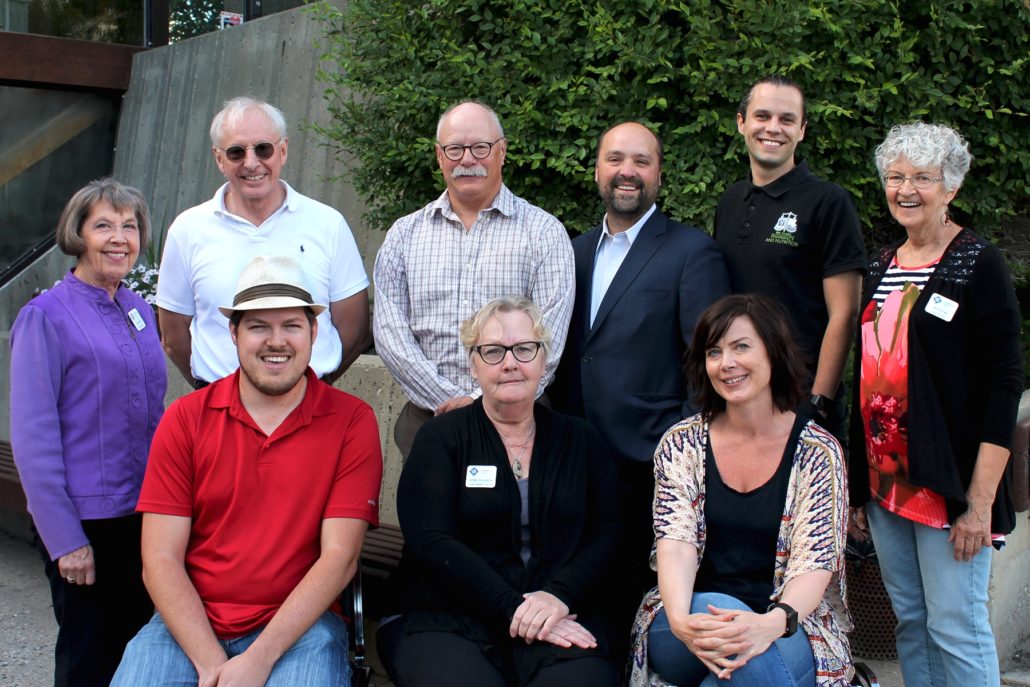 Introducing the Board of Directors for 2017/2018, declared at the Community Clinic AGM on June 14th
Standing (left to right):  Carol Eaton, Bill Davies (President), Patrick Lapointe, Jason Majid (Vice President),  Dr. Jaris Swidrovich, Gertie Paul.  Sitting (left to right): Jason Cruikshank, Anne Doucette, Karen Cederwall.
New to the Board are…
Karen Cederwall, Executive Director of the Saskatoon Student Wellness Initiative Toward Community Health (SWITCH), which operates out of the Clinic's Westside location.  Karen has over 13 years of experience in non-profit organizations primarily with the Diabetes Canada (formerly the Canadian Diabetes Association). Through many and varied roles, Karen has developed skills in operations, project and change management, labour relations, team leadership and occupational health and safety.
Patrick Lapointe returns after having served on the Board in the 70s and late 80s.  During that time, he was also a social worker and community developer for the Clinic.  From 1993 to 2011, Patrick served as Executive Director of the Clinic, representing our co-operative on numerous committees and holding executive positions with many organizations including Saskatchewan Health, the Canadian Alliance of Community Health Care Associations, Saskatoon Age Concern Council and the Community Health Co-operative Federation.
Dr. Jaris Swidrovich is a full-time lecturer at the College of Pharmacy and Nutrition at the University of Saskatchewan and is Canada's "first and only self-identified First Nations Doctor of Pharmacy".  Jaris' relationship with the Clinic began over a decade ago when he volunteered, as a Pharmacy student, with SWITCH and he now volunteers with SWITCH as a pharmacist mentor.  He is also on the Board of Directors of Sanctum, Saskatchewan's first hospice with respite and supportive care for people living with and affected by HIV/AIDS.
Returning Board members are….
Jason Cruickshank worked in Member Relations for the Saskatoon Community Clinic in 2009/2010 and is currently working in IT with ProjectLine Solutions. Jason was re-elected to the board in 2016, having previously sat on the Clinic Board in 2011. Growing up in Winnipeg, Jason received a Media Production diploma from Assiniboine Community College and later attended Brandon University. He now lives in Martensville with his wife and daughter.
Bill Davies is in his third term as President of the Community Clinic Board.  Bill has a solid history with community clinics having been a board member of the Regina Community Clinic while living there and strong co-operative roots that date back to his rural Saskatchewan upbringing.  He has held senior executive positions with the government of Saskatchewan and has worked with labour, health, intergovernmental affairs, postsecondary education and the Saskatchewan Gaming Corporation.
Anne Doucette has been a Board member since 2006, serving as President of the Board for seven terms.  During that time, Anne served as President of the Saskatchewan Federation of Community Clinics, was a founding member of the committee that formed the national organization of health care co-ops (Health Care Co-operative Federation of Canada), represented the organization in international forums and represented the provincial Federation on the Board of the Saskatchewan Co-operative Association.
Carol Eaton was elected to the Clinic's board on January 13, 2016. She holds a Chartered Professional Accountant (CPA, CMA) designation and a Bachelor of Vocational Technical Education degree. Carol has worked for 40 years in management, finance and administration with a number of public and private businesses and has volunteered as a board member in a number of organizations including Affinity Credit Union, the YWCA and Transition House (Regina).
Jason Majid was elected to the Clinic's Board in 2015.  He is Vice-President, Legal Counsel at Concentra, Canada's leading provider of wholesale finance and trust solutions to credit unions.  Prior to joining Concentra, Jason practiced with international law firms in the Arabian Gulf, where his clients included governments, healthcare institutions, insurers and pharmaceutical companies, among others.
Gertie Paul has been a member of the Clinic since 1970 and was elected to the Board in 2016.  She is a Chartered Professional Accountant, and worked as an auditor for the Canada Revenue Agency (CRA) for 22 years.  She also facilitated workshops within the Federal Government on topics including Diversity, Stress Management, Communications, Harassment Awareness and Conflict Resolution.
https://saskatooncommunityclinic.ca/wp-content/uploads/2017/03/logo-long.png
0
0
https://saskatooncommunityclinic.ca/wp-content/uploads/2017/03/logo-long.png
2017-07-12 11:17:07
2017-09-25 11:53:08
Community Clinic Board of Directors 2017/2018