New! Writing Program for Clinic Seniors – Write Your Life Stories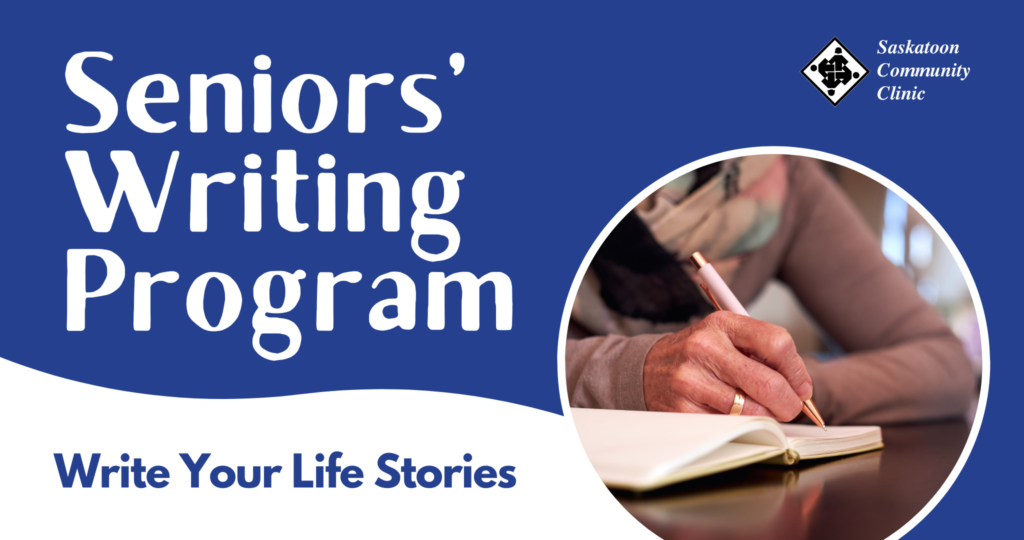 By Michael Murphy, Community Clinic member
Everyone has stories to tell from their life experiences. The goal of our new 'Write Your Life Stories' program is to encourage clinic members to start writing these life stories creatively – story by story, chapter by chapter, or theme by theme. Previous writing experience is not essential. We will provide mentoring and encourage participants to provide support to each other.
Each informal session will include discussions on aspects of memoir writing along with participant readings of a short piece they have written in the previous week, followed by group discussion and feedback. Program facilitators will suggest a topic for the following week, but writers are free to choose any topic. Writing will not take place during the sessions, but on participants' own time.
If participants use email, they will be encouraged to circulate their stories in advance of the following session to facilitate feedback. There will be eight weekly sessions up to 90 minutes each on Friday afternoons starting March 17. The program will take place at the Saskatoon Community Clinic's Langer Building. Advance registration is required, as space is limited.
Michael Murphy is a long-time Community Clinic member, a member of our Foundation Board and has experience offering writing programs for Seniors in the community.
---
When:
Fridays from 2 p.m. to 3:30 p.m.
March 17 to May 12
Where:
Saskatoon Community Clinic Langer Building
424 1st Ave. N. – enter via back alley – blue door.
For more information or to register please contact:
Michael Murphy, Program Facilitator
[email protected]
Tel: 306-244-5267
Laurie Stone, Seniors Volunteer Co-ordinator
[email protected]
Tel: 306-664-4282
There is no cost to participate. Please register early as enrolment is limited.
---
The Clinic observes masking and social distancing guidelines. Sponsored by the Saskatoon Community Clinic Seniors Advisory Council and the Counselling and Community Services Department.
https://saskatooncommunityclinic.ca/wp-content/uploads/2017/03/logo-long.png
0
0
https://saskatooncommunityclinic.ca/wp-content/uploads/2017/03/logo-long.png
2023-02-14 14:10:43
2023-02-14 14:24:56
New! Writing Program for Clinic Seniors – Write Your Life Stories